This tutorial will teach you how to edit your photo to give it that roughly painted / impressionism effect I did in my previous
post
.
In this tutorial, I would like you to experiment and play around later on in photoshop. I'm just gonna teach you the technique on how to achieve that "painted" look without actually painting the subject in corel painter or photoshop.
before and after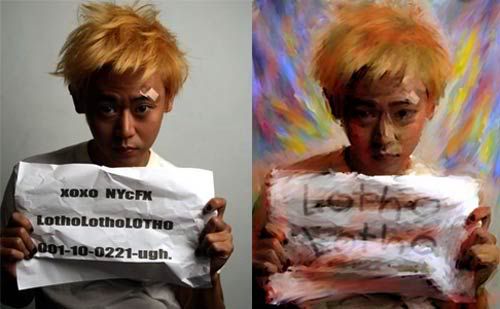 you will be needing:
-a tablet
-know-how in Corel Painter and Adobe Photoshop
-Corel Painter (I'm using Painter X)
-Adobe Photoshop
-a keen eye for details



==================================

Open the jpeg file in corel painter.

I'm gonna use my friend, Lotho's pic in this tutorial. Lotho, BTW, is a very talented, fab and one of the most sought after stylists here in Manila. Checkout his blog in

ISKANDALOSA

. 




The resolution of the photo is 1250 x 1563 pixels.